Volunteers really do make the world of non-profit organizations go round. They are the driving force behind the success of many causes today. However, volunteers do not miraculously grow on trees. Some don't even know they have what it takes until they are properly tapped. Inviting the correct volunteers doesn't also happen overnight. It takes a tremendous amount of time, effort, persistence, careful planning and resources.
It is hard to recruit volunteers nowadays but it is not impossible to do so. Getting the right volunteers with skills and dedication is very doable. Here are tips on how you can do just that: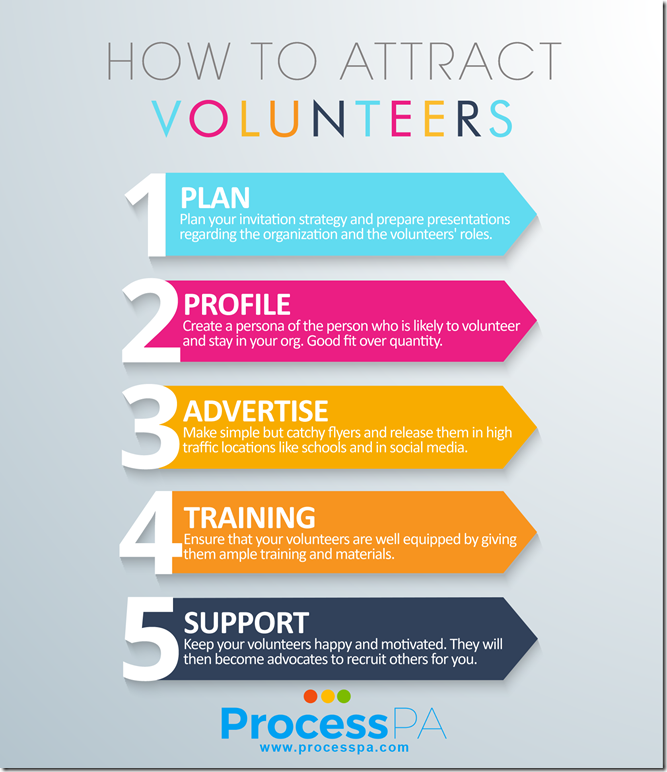 1. Plan
---
Planning your invitation strategy is very vital in getting high quality volunteers. Before you fully embark on inviting people make sure that you already have a concrete plan for them. Moreover, you also need to have an understandable presentation of your organization and cause or campaign.
You need to show them the following:
What : What will they be doing? What is in store for them?
When : When do you need them? How long?
Where : Where will they be working?
2. Profile
---
Make a persona of the personality or characteristics of the ideal type of volunteer that you are looking for. What skills should these people have? What passion should they want to pursue? Inviting volunteers is not quantity over quality. It should be balanced. One good way to check if they're right for your organization is to have the candidates fill up a survey. You can also interview them before having them on board. When you do it this way, you'll have a higher chance of getting long-term and volunteers that fit better with your organization.
3. Advertise
---
The next step is to announce the recruitment. You can make announcement flyers and hand them out in strategic locations. We highly suggest the following:
Universities
Starting your volunteers young is a good path to take. College students are very energetic, idealistic and highly motivated. They also have a good amount of time to share.
Community Boards
These are free boards located in schools or neighborhoods where you can put up your announcement posters.
Social Media
This is the most efficient and effective way to advertise your announcement. Everybody is on social media, you just have to put up the correct material that is clean and straight to the point. Try to make it as sincere as possible because the online community can easily spot an overacting emotional material and it can easily ward them off.
4. Training
---
Make sure that you have a complete training outline for your volunteers. Don't make them feel like they've been thrown off to something that they do not fully understand. They will easily feel used for the sake of having people to work for you if this happens. Motivate them by showing the following before you completely let them fulfill their assigned role or task:
History of the organization.
The cause or campaign.
The complete plan to achieve the cause.
How their roles contribute to the success of attaining the cause.
Post campaign plan, if there is any.
5. Support
---
The thing that you do not want to happen is to have volunteers today and none tomorrow. Getting volunteers to sign up for the group is not the final step. It is a cycle. Keeping them and making them advocates so that you attract more volunteers is probably the hardest part. To make them stay and invite others to the organization entails time, a strong relationship with the group and a burning passion for the cause. Make them stay motivated by:
Recognizing their hard work.
Asking for their comments and suggestions.
Showing them how their work contributes to the cause/campaign.
Not overworking them.
Maintaining a positive social environment by having people work in groups and changing the grouping map every now and then.
Final Note
---
Volunteer recruitment is a very long and hard process. There will even be times when it can be frustrating. To have a solid volunteer recruitment activity, the recruiters should be strong and fulfilled themselves. Establish a strong support system during the recruitment process and remember to be persistent and patient. If you take delight and happiness from recruiting, it is impossible not to translate that when sharing your cause with others. Nothing is done overnight and at the end of the day, the cause that you are striving to aim for will always be worth all the challenges that will come your way.